Radio Talking Book Network
---
Radio Talking Book Network (RTBN), founded in 1974, is Nebraska's audio companion and only radio reading service. Over 80 RTBN volunteers read print media aloud, either live or as a recording, and their diverse voices are broadcast throughout Nebraska over the radio and internet to blind, low vision, or print impaired listeners.  RTBN programming includes: readings from 17 regional newspapers, including the Grand Island Independent and Scottsbluff Star Herald as well as live daily readings of the Omaha World Herald and Lincoln Journal Star; weekly regional grocery and department store ads; current information from over 70 magazines; and more.  We recently added programming including: Mind Your Business, featuring Midlands Business Journal and Strictly Business;  Nebraska Virtual Newsstand highlighting online news sources like NOISE, Flatwater Free Press, Nebraska Examiner, and Nebraska Sunrise; and Southeast Nebraska Newspapers and Sioux City Journal to our newspaper readings. 
Nearly all these publications would otherwise be inaccessible to our listeners.  RTBN features local nonprofits and agencies on our Community Conversations, a live interview program; a Veterans Hour; and special programming features.  For example, last year, RTBN volunteers recorded the League of Women Voters voting guide to be aired in the weeks leading up to the primary and midterms.  Following the 2016 election, Margaret from Omaha called to say, "Thank you for airing the League of Women Voters Guide. The information helped me so much as I voted for the first time in years."  The voices of RTBN inform, entertain, and alleviate isolation, which often affects people with diminishing vision, providing listeners with companionship.
This human and personal presentation reaches listeners via RTBN's FM radio receivers, a familiar, easy-to-use medium provided at no cost to eligible individuals and care facilities.  Fill out an application for a radio here.  RTBN's internet stream can be accessed on: our website; personal computers and tablets; two smart phone apps; smart speakers like Alexa & Google Home; and two internet receiver options.  NEW! Eligible listeners can now receive an Alexa Echo Dot as an internet receiver option!  To increase accessibility for our listeners, RTBN implemented a telephone option, AudioNow, that allows individuals to place a simple phone call and listen to our broadcast from their home or mobile phones.  RTBN meets your on demand needs with three podcast channels containing 17 newspapers, ads, special programming, and more.  These podcasts are available on our website and iTunes.  Warren, a listener from Lincoln, told us "Thank him [volunteer Matthew Leaf] for reading the HyVee ads.  I know it's a lot of work and I sure appreciate it!"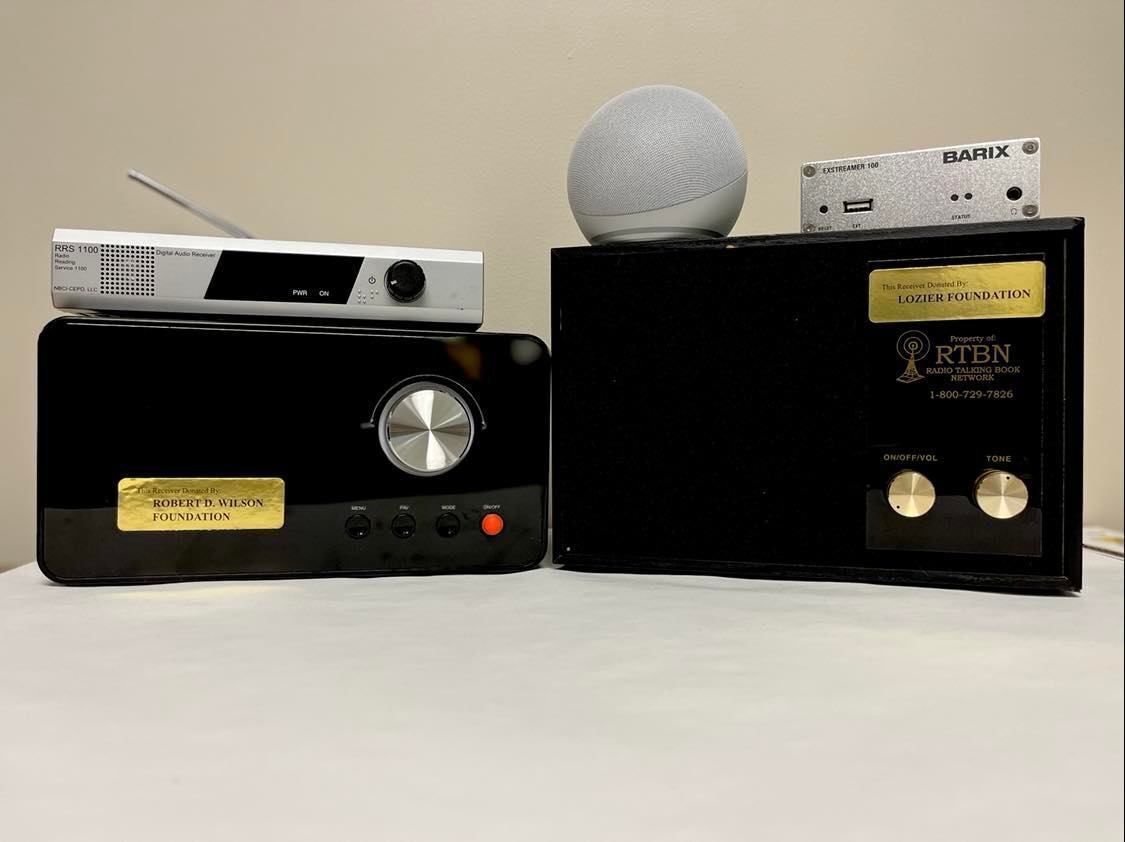 Community Served
---
There are an estimated 39,700 blind or visually impaired individuals in Nebraska, and this population is denied access to more than 95% of published works.  RTBN's audience is quite diverse as people lose the ability to read for many reasons, including birth defects and cognitive disorders like dyslexia.  Stroke, accident, chronic illness or other infirmities can also impair reading.  The increasing incidence of age-related disability, eye disease, and vision loss, which affects up to 25 percent of persons aged 65 and over, is the most common reason for using RTBN.  We often hear from those we serve that what they miss the most is driving a car and reading the newspaper.  While we don't generally drive a car for them, we are pleased to be able to read the paper to them every day of the year.
RTBN Programming
---
Radio Talking Book Network provides local, current print information necessary to lead a self-directed, independent life.  Our programming includes the following:
Newspapers: Omaha World-Herald, Lincoln Journal Star, North Platte Telegraph, Grand Island Independent, Scottsbluff Star-Herald, Norfolk Daily News, Council Bluffs Nonpareil, Fremont Tribune, Columbus Telegram, The Omaha Star, Kearney Hub, Hastings Tribune, Wall Street Journal 

Informative: Weekly Department Store & Grocery Ads, Heath & Wellness, Consumer Info, Veterans Hour, Science & Environment, Senior Summary, What's Cooking, Community Conversations

Arts, Culture and Hobbies: Sports, Nebraska Life, Home and Garden, Good Old Days, Pet Pause, Trips & Travel, Entertainment Update

Entertainment: Bookshelf, Mystery Theater, Poetry, Nostalgia Radio
  For a complete program schedule, please click here.